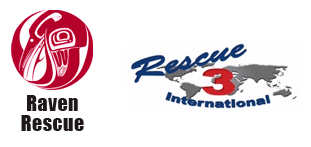 This course is valuable training for personnel who work on frozen lakes or rivers, or for those who respond to incidents where someone has fallen through the ice. The emphasis is on determining ice strength, identifying risks, self rescue and low-risk methods of rescuing others.
A Customized Approach to Ice Safety and Rescue
Resource management personnel and outdoor guides will emphasize determining ice strength and hazards as they are often required to work on surface ice for several hours or even days at a time, while first responders will spend more time learning the finer points of a "go rescue" and the Incident Command System as it pertains to ice rescue. All students will cover the full range of skills and knowledge required for certification. This course is compliant with the NFPA 1670 Standard for technical ice rescue incidents.
Pre-requisites
18+ years of age (16-17 years with parental permission)
Basic swimming ability
In good physical condition
Required Equipment
Drysuit, survival suit or thick wetsuit (wetsuit rentals available upon request)
Personal Flotation Device (Type III or IV)
Water-sport helmet
Neoprene footwear with a good walking sole, or running shoes (a bit large to accommodate extra socks)
Note: winter boots do NOT work well as they get very heavy when wet
Neoprene gloves or insulated gloves with waterproof gloves overtop (commercial dishwashing gloves work great)
Layers of down, wool or fleece clothing for under the drysuit
Headwear including a thin hat or balaclava (pom-poms don't work under a helmet)
Hot Shots (pocket warmers)
General Objectives
To develop a sense of confidence and necessary skills for personnel working in surface ice situations on lakes and rivers.
Develop ability to self rescue and rescue others in surface ice situations
Familiarize and train the student in utilization of standard ice rescue gear.
Ice Rescue Course Outline
Day 1 – Classroom
Rescue Philosophy
Overview NFPA standards (optional)
Size up
Management and pre-planning
Ice processes and properties
Rescuer safety
Gear and equipment
Communications
Animal handling (optional)
Knots
Day 2 – On Ice
Walking on ice
Ice staff
Self rescue techniques
Ice picks
Shore-based rescue techniques
Anchoring
Mechanical advantage
Live bait rescues
Continuous loop
Boat-based techniques
Using mechanical advantage on heavy loads
Rescue scenarios
Take Aways
Rescue 3's Ice Rescue – Technician Level Manual
Personalized skill sheet (training record) signed by the instructor (valuable document for risk management)
Registration of training record in Rescue 3's international database
Wallet card with personal Rescue 3 registration number and date of certification
Certificate of Completion
*Content is derived from Raven Rescue – to book an ice rescue course please visit www.ravenrescue.com*