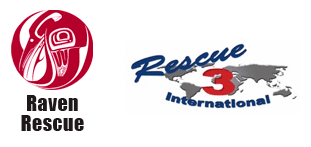 Extreme whitewater and night operations
Expand previous Swiftwater Rescue Technician training into the demanding realm of extreme whitewater, and night operations. This course focusses on advanced rescue swimming and non-motorized boat handling skills required for "go" rescues in Class III+ swiftwater, and operating in low visibility or darkness.
COURSE DETAILS
Duration
3 days (24 hours, which includes one night session)Format
1 day classroom, 2 days on the river (including a night exercise)Participants
Minimum 10. Maximum 12.Prerequisites
Current SRT1 certification
18+ years of age
In good physical condition
Strong swimming ability in Class II-III water
Price
$599Recertification
Repeat the entire course at a 15% discount every three years.Annual Training Maintenance
Required Equipment
Drysuit or wetsuit*
Personal flotation device (Type III or V)*
Water sports helmet*
Class III climbing harness (or separate chest and sit harness)
Neoprene gloves
Neoprene footwear with good walking soles, wading boots, or running shoes
Flashlight or headlamp
3-4 cyalume "light sticks"
Layers of wool or fleece clothing for under the drysuit/wetsuit, including sweater, pants and socks
* Rental equipment available. Click here for a price list.Takeaways & Documentation
Personalized skill sheet (training record) signed by the instructor (a valuable document for risk management)
Registration of training record in Rescue 3's international database
Wallet card with personal Rescue 3 registration number and date of certification
Certificate of completion
FAQ
More details about swiftwater courses including what to expect and how to prepare: click here for our swiftwater FAQ.
Course Outline
Day 1 – Classroom Session (Note: there may be some time on the river on Day 1)
Size-up, pre-planning and Incident Management
Advanced hydrology: Class III+
Search techniques
Flood management
Boat introduction: types, applications, limitations
Basic and advanced equipment
Low head dam and aqueduct considerations
Day 2 – River Session
Go rescues, live bait, tethered swims etc.
Knots, anchors and mechanical advantage review
Belay systems, muenter hitch, tandem triple prusiks, eight plates etc.
Anchor systems
Compound mechanical advantage
Advanced swimming: Class III+
Basic paddle boat handling: Class III+
Rescue boards
Day 2 – Night Session on the River
Night search logistics, communications and operations
Day 3 – River Session
Line crossing techniques, messenger lines etc.
High line rope systems, mid point drop
Mid-point drop with boat on a tether: Class III+
Boat wraps and pins
–